More Month Than Money?? Can Budgeting Really Be Fun??
Truth is you're probably not the only one! What with most people not having a payday since before Christmas and January being a loooooonng 5 weeks,
it seems many people are struggling with their account balances at the moment and maybe chipping into their overdrafts!
A poll of 2000 adults revealed that after paying for all the necessities including rent/mortgage payments, utility bills, food, fuel, and other living expenses, that just a small amount of "spare cash" remains at the end of the month. What's your guilty pleasure? Here are the top 10 things that British people are most likely to spend their disposable income ( spare cash ) on each month.
1. Eating out
2. Holidays
3. Clothes
4. Entertainment trips, such as going to the cinema
5. A hobby
6. Books
7. Nights out in the pub/ clubbing
8. Pets
9. Technology or gadgets
10. Music or concert tickets
45% of people polled said that they often have months with no disposable income at all and every 4 in 10 people say that they feel that they are never going to earn enough to have a decent amount of spare money at the end of each month.
Where do you sit with this? Does it sound familiar?
More than 3 in 10 of the people who participated in the poll, admitted that they would have more money and disposable income if they were better at budgeting and managing their money.
Again, sound familiar?
If the answer is YES, have a look at my top 5 tips to have fun with budgeting!

Trying to catch up and getting back on track of your finances and sorting out your spendings in the future doesn't have to be boring and here's how!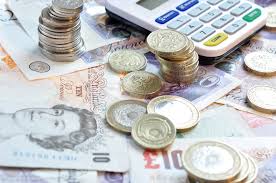 CHANGE YOUR BUDGETING MINDSET
Chances are if you go in with a negative outlook you're more than likely going to come out at the end of it with a negative result. So, that being said, think positively about all of this. Budgeting puts YOU in control of YOUR money!
How much do you really want that family holiday? How much do you really want to buy gifts for loved ones? How much do you really want to treat yourself to a new outfit? How much do you want to pay off some of your debt and be closer to your debt free dream?
Take budgeting as an opportunity to take control of your life and your money. Make a budget in accordance with your dreams, goals, and values. A budget will help you to get there faster.
Some people like to see things visually, to be reminded of the things they want and can work harder towards these when they see them.
Why not try making a vision board?

You could even get your children involved too! Find magazines and get cutting and sticking or draw and write in bright colours the things that you want in life but can't currently afford because you're maybe spending the odd bit of money here and there on things you don't necessarily need. Every little pop to the shop for a sandwich or a coffee on your break, it all adds up and at the end of the month you could swap it for a fun day out with your family instead!

Don't forget to place the vision board somewhere that you are going to see every day!
MAKE BUDGETING COLOURFUL
This one's perfect for all my fellow stationary lovers!

Try setting up your own excel spreadsheet, make it as pretty as you want by changing the fonts, text colour and box colours and have a fun visual to work with.
If computers aren't your thing, then check out Pinterest for lots of bright, colourful and fun looking budget printables- I'm sure you'll find one to your taste!
HOMEMADE DINNER DATE NIGHT
Have some quality alone time with your loved one in the comfort of your own home. Just because finances might be of short supply doesn't mean you can't still have fun.

Why not try cooking a new meal together?

A friend of mine and her partner set themselves a challenge of cooking a dish from a different nationality each month so for example Mexican one month, French the next and so on.

Going by their Facebook pictures they seemed to have a lot of fun with this, whilst saving money at the same time!

APP-SOLUTELY WORTH IT
If like me the thought of maths and calculations completely boggles your mind then you may well benefit from an App of some kind that takes all the stresses away and does the job for you!

It can actually be fun to see real time updates of your budget and with the user friendly apps available these days you can also see your information portrayed in colourful graphs.
FUN WITH FRIENDS
Don't go it alone.

Why not join a budgeting Facebook group or gather some friends together to talk money?
You'll be surprised at how a typically boring task can be turned into fun with the help of a few friends and you may even get some nifty tips and tricks off them too!
Budgeting doesn't have to be hard, or stressful, or boring. You can make it fun!
Which one of my top tips are you most looking forward to trying?
DON'T forget to review your budgeting once the month is done, check what worked well for you, the areas that you saved money with and the areas that may need improving next time.

Happy Saving...have fun! :)
More great reads just click on our homepage link here - https://howiamfeelingfunny.com/