HOW TO TRY 3 MONTHS OF AMAZON MUSIC HD FREE - SIMPLE
Now many of us use Amazon Prime , its a great feature to have to get deliveries faster isn't it?
If you don't have it and wish to try this Free use the same method, try with the link above.
If you have never had Amazon Music - This is for YOU!
- it's a great deal FREE too!
Ok, so here is the deal, you simply head over to AMAZON MUSIC HD FREE sign up, "yes, you have to enter your card details, but they won't charge your card." - it's for verification only.
Once you're signed up, CANCEL. This is key if you do not want anything more than the FREE luxury offer.
When you cancel they will let the 3 months duration run its course and you won't pay a single penny for the only place online you can listen to HD music for FREE.
If you don't cancel and don't have prime the price after it expires is £14.99 a month, with prime it is £12.99, but you can opt to go for their standard package from as low as just £3.99 per month.
So, let's take a look at their other offers.
***BEST OFFER***
Amazon Music HD offer! (90 days free of Amazon Music HD)
Amazon Music HD is a streaming tier offering an extensive catalogue in the premium quality lossless audio, currently available in the US, UK, Germany, Austria and Japan. With more than 50 million tracks in High Definition (HD) and millions of tracks in Ultra High Definition (Ultra HD), listeners can now stream their favourite songs and albums in a level of detail as close as possible to the original recording.
Amazon Music HD makes high-quality, loss less audio affordable for the everyday listener.
The offer '90 days free of Amazon Music HD' is valid for new subscribers
Don't pass it up! Offer ends soon
Amazon Music Unlimited Student Offer (Amazon Music: 6 months free for eligible students)
Amazon Music Unlimited is Amazon's premium music streaming service offering customers unlimited access to 50 million songs including the latest and greatest albums, and thousands of playlists and stations. Customers can stream or download songs to listen to offline – all ad-free.
Amazon Music Unlimited customers have access to exclusive voice control on Alexa-enabled devices.
Same As The Top Paragraph - Cancel after sign up - to keep your services entirely FREE for 30 days! - Read on for more great offers!
If you want to give this a try it's entirely free for you for 30 days, and you can access movies and lots more FREE - sign up to AMAZON PRIME
lets check out the benefits of Amazon Prime
First off, it's entirely FREE for you to use and explore for 30 days!
As an Amazon Prime member, you receive many delivery, video, photo, music, Kindle books, sharing benefits and more..
Get 30-minute early access to Lightning Deals on Amazon.co.uk. For more information, go to
Amazon Prime members save 20% on eligible nappy and baby food subscriptions (excluding formula), compliments of Amazon Family.
Listen to over 2 million songs on Prime Music
Secure, unlimited photo storage with anywhere access
Borrow from thousands of titles from the Kindle Owners' Lending Library
Watch over 15,000 movies and TV episodes with unlimited instant streaming
Get unlimited, FREE One-Day Delivery on millions of items
A huge load of benefits and it is all your FREE for 30 days, after then, its just £.7.99 - Considering everything I think it's a deal not to be missed out on.
Fire for Kids Unlimited gives you endless access to thousands of kid-friendly books, movies, TV shows, educational apps, and games.
Fire for Kids Unlimited has so much to offer, including:A world of content for kids to explore within a completely kid-friendly environmentPromotion of reading and math with educadtional apps and thousands of booksFlexible parental controls where you can choose what content each child sees, set educational goals and time limits.
You can manage these settings from their device, or remotely from our Amazon Parent Dashboard
Ability to personalize each kid's experience with profiles, and let them watch where they want to - on Fire Tablets, or Kindle eReaders
Sign up here Amazon Fire Sign Up Free
You can buy the Amazon Fire Tablets & eReaders below - Exclusive - Check out the new Amazon Fire Kids Edition
Buy Amazon Kindle For Just £69.99 - Tip - Free Delivery If You Sign Up To FREE Amazon Prime First.
Buy Amazon Fire Kids Edition £99.99 - Delivered Free - Click the link to learn more - Amazon Fire Kids Edition Features
Buy Amazon Fire HD 10 Tablet - Just £149.99 - Free Delivery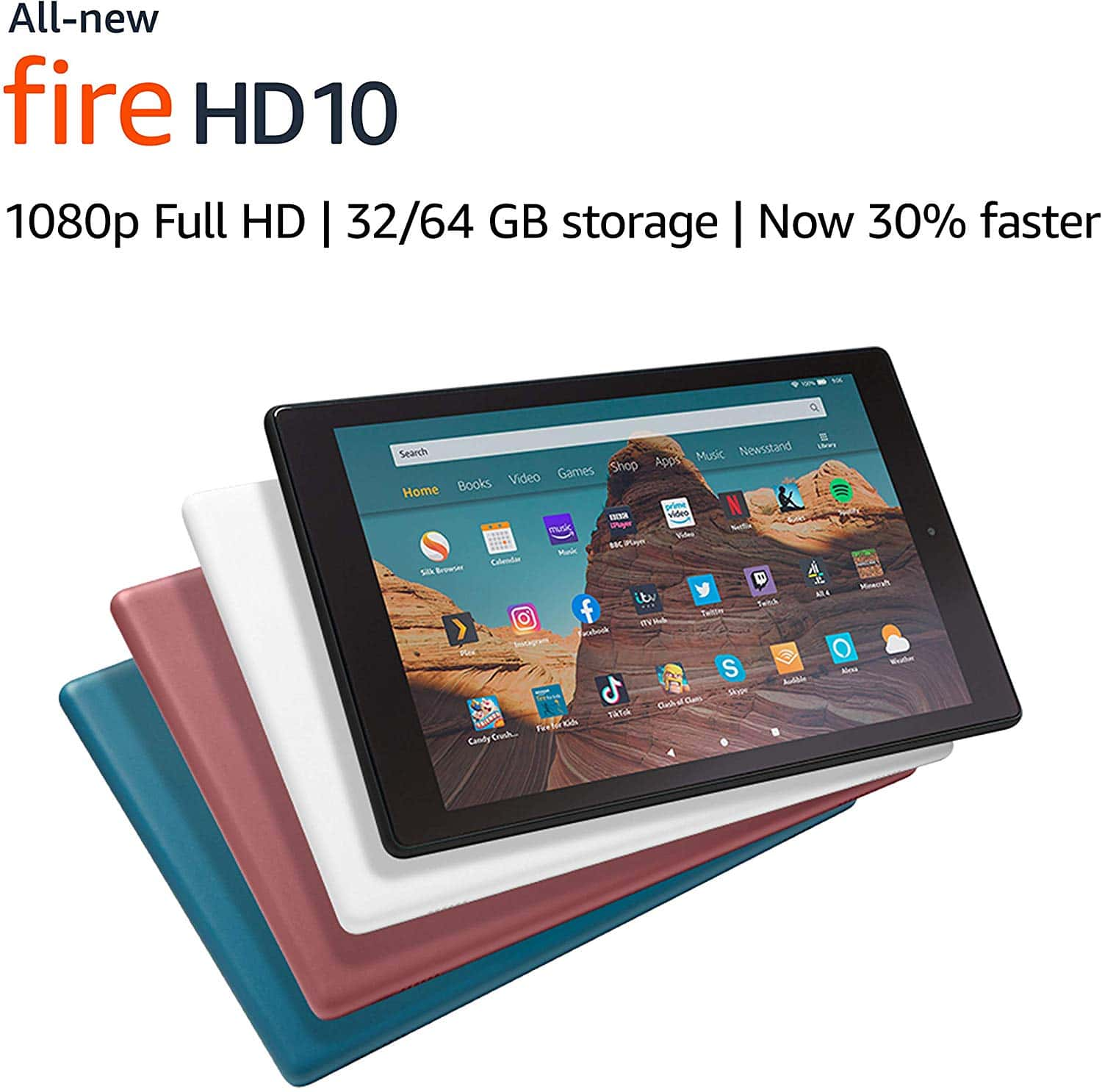 Benefits of the Fire HD Tablet;
10.1" 1080p full HD display and 32 GB of internal storage (add up to 512 GB with microSD).
Now 30% faster thanks to the 2.0 GHz octa-core processor and 2 GB of RAM.
Up to 12 hours of reading, browsing the web, watching videos and listening to music with USB-C port for easy charging.
2 MP front- and rear-facing cameras with 720p HD video recording.Hands free with Alexa.
Dual-band, enhanced Wi-Fi.Enjoy millions of films, TV programmes, songs, books, apps and games.
Fancy more TOP Sellers over at Amazon - Here Are AMAZON TOP SELLERS - Click https://amzn.to/2U2PBrc
New - Fire TV Cube - Control Your TV - Hands FREE - Buy Amazon Fire TV Cube Click here
Fire TV Cube is the fastest, most powerful Fire TV ever, delivering a fast, fluid experience for your favourite films and TV programmes.
Control your compatible soundbar and A/V receiver; change satellite channels with your voice.
From across the room, just ask Alexa to turn on the TV, dim compatible lights and play what you want to watch.
With an ultra-powerful hexa-core processor, enjoy instant access to 4K ultra HD content, plus support for Dolby Vision and HDR, and HDR10+. Support for Dolby Atmos is available on select Prime Video and Netflix titles.Watch favourites from Netflix, Prime Video, YouTube, ITV Hub, All 4, Curzon and more. Subscriptions may be required.Fire TV Cube is designed to protect your privacy.
To electronically disconnect the microphones, press the Microphone On/Off button.
Coming Soon is the AMAZON Sound Bar Click the link to keep notified when released. https://amzn.to/2tMkOUO
Don't forget FREE AMAZON HD Music Unlimited FREE - Entirely For 3 Whole Months! Sign Up Here - https://amzn.to/2U3qbtk
That's all for now folks! - Head over to our homepage for more great news, the ultimate bizzare and damn right weird stories. We also write about health too, as we all like to be healthy, don't we? Click on our homepage - https://howiamfeelingfunny.com