Sad News as Monty Python Star Dies Aged 77.
Monty Python star Terry Jones has died at the age of 77, four years after being diagnosed with dementia.
A statement from his family said: "We have all lost a kind, funny, warm, creative and truly loving man."
Fellow Python Sir Michael Palin described Jones as "one of the funniest writer-performers of his generation".
John Cleese said: "It feels strange that a man of so many talents and such endless enthusiasm, should have faded so gently away..."
He added: "Of his many achievements, for me the greatest gift he gave us all was his direction of Life of Brian. Perfection."
Eric Idle, another member of the highly influential comedy troupe, recalled the "many laughs, moments of total hilarity onstage and off we have all shared with him".
He went on: "It's too sad if you knew him, but if you didn't you will always smile at the many wonderfully funny moments he gave us.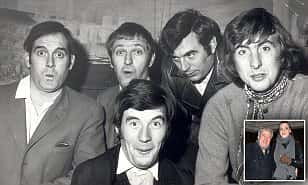 The Welsh comic actor, writer and director died on Tuesday, four years after contracting a rare form of dementia known as FTD.
Palin added: "Terry was one of my closest, most valued friends. He was kind, generous, supportive and passionate about living life to the full.
"He was far more than one of the funniest writer-performers of his generation, he was the complete Renaissance comedian - writer, director, presenter, historian, brilliant children's author, and the warmest, most wonderful company you could wish to have."
Other comedy figures paid tribute on social twitter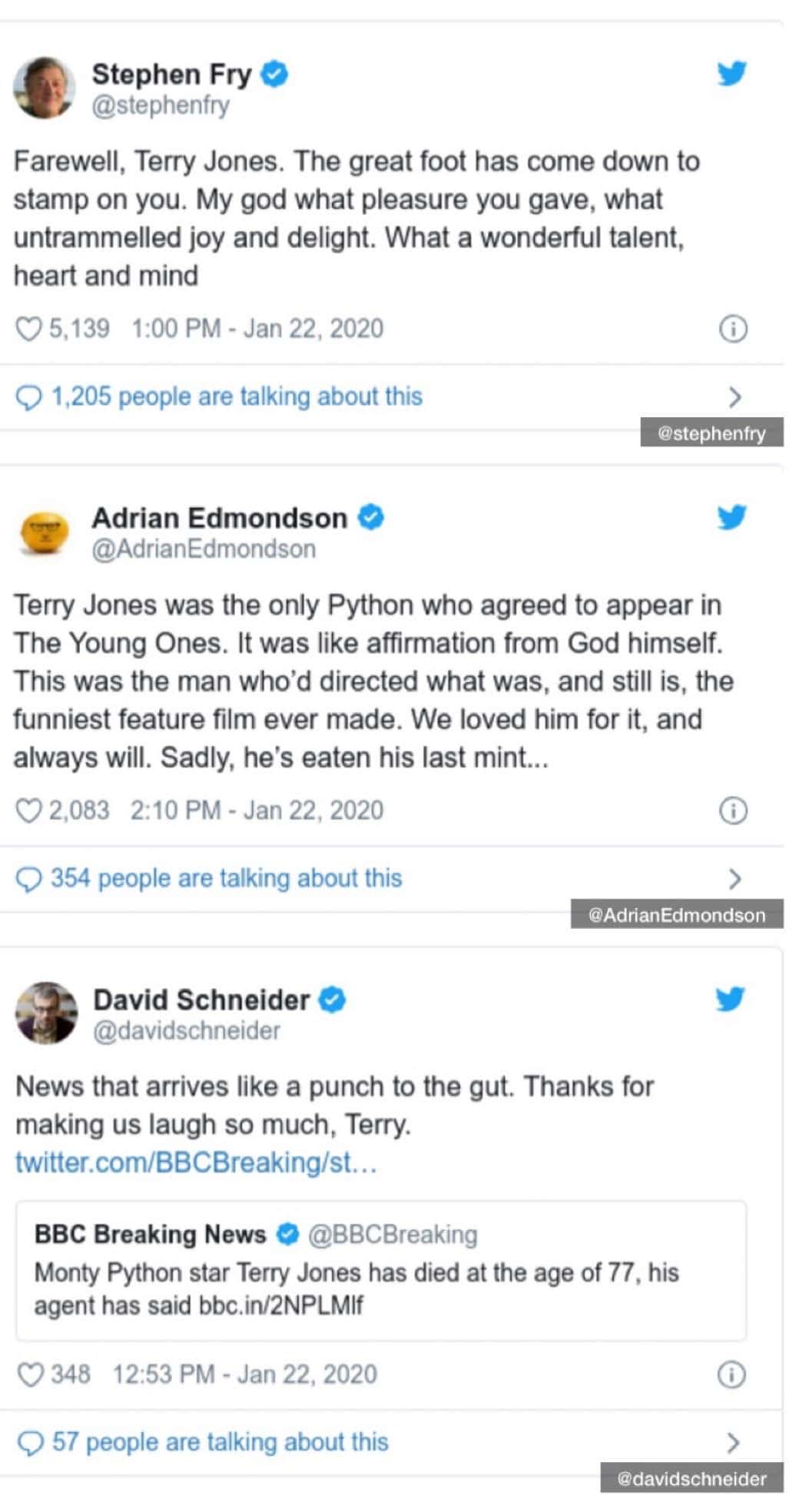 Screenwriter Charlie Brooker posted: "RIP the actual genius Terry Jones. Far too many brilliant moments to choose from."
David Walliams thanked his comedy hero "for a lifetime of laughter".
Simon Pegg - who acted in Jones' final film as director, 2015's Absolutely Anything - said:
"Terry was a sweet, gentle, funny man who was a joy to work with and impossible not to love."
Terry Jones' best lines
■ "Now, you listen here! He's not the Messiah. He's a very naughty boy!" - as Brian's mother in Monty Python's Life of Brian
■ "I'm alive, I'm alive!" - as the naked hermit who gives away the location of a hiding Brian in Life of Brian
■ "I shall use my largest scales" - as Sir Belvedere, who oversees a witch trial in Monty Python and the Holy Grail
■ "What, the curtains?" - as Prince Herbert, who is told "One day, lad, all this will be yours" in Holy Grail
■ "Spam, spam, spam, spam, spam, spam, spam" - as the greasy spoon waitress in a Monty Python sketch
What is frontotemporal dementia (FTD)?
■ FTD is an uncommon type of dementia that mainly affects the front and sides of the brain
■ The initial symptoms are, in most cases, changes in behaviour, mental ability and language, which will get worse over time
■ Language problems can include loss of vocabulary, repetition and forgetting the meaning of common words
■ FTD is caused by abnormal protein clumps forming inside the brain cells, which are thought to damage the cells and stop them working. Why this happens is not fully understood
■ Although there are currently no cures or treatments to slow FTD down, there are treatments that can help control some symptoms
Source: NHS